I have been thinking about starting a blog like this for a while. I was a bit concerned about how interesting it would be though. The majority of girls that I see in LiveJournal's community EGL seem to be able bodied and mostly pain free, save for a couple. I'd find myself a little envious, seeing photos from meet ups of exploration and the "jump photos". I can't jump. Not any more, But I still stayed hopeful, and thought about this blog a lot. Today I decided to plug my netbook into the modem, as my router is broken, and look at this weeks Lolita Valentines and Lolita Secrets. The Valentines were cute as usual and lifted my spirits. The secrets tend to be snarky or filled with drama, but one really hit home and I want to share it here.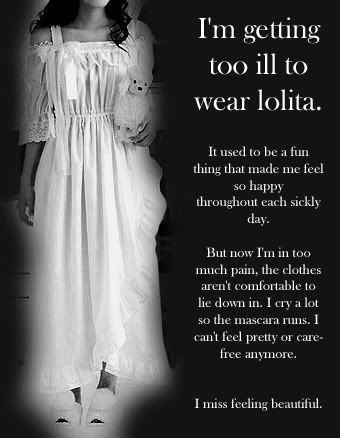 I couldn't have said these words better myself. I know exactly how the poster feels. Everyday is a challenge, and most days I don't even leave the house. On those days I end to sit around in my PJs and try to cope. I do little things like draw or some sewing, but even that on some days is too much for me. Some days I just throw on a t-shirt and jeans if I have to go out, coz I don't have the energy for putting on the frills. I spend the rest of those days depressed and feeling awkward.
So, here I am to share the tips of how I make it through each day, living beautifully. I hope you can take something away from my posts whether you are completely healthy, have the flu, or a chronic pain disorder like I do.
I hope you are feeling well today, and I will see you next time.